"Achieving sustainability does not mean slowing down our economy. It means speeding it up, and directing our energy toward the redesign and redevelopment of existing systems that create new opportunities for the future".
Alan AtKisson, President, AtKisson Inc 2004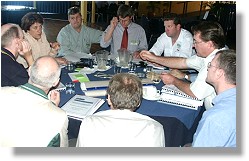 Deputy Mayor, Councillors, Managers,
and representatives from Townsville Business, Industry and Government.