The Strand Wind Project at Townsville demonstrates the capturing and use of renewable energy - wind power. The Strand wind turbine can produce enough energy to power an average house in Townsville and reduce greenhouse emissions by approximately 6.3 tonnes a year.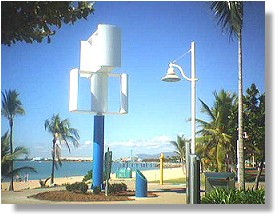 The Strand Wind Turbine -
Power from wind
Students can visit the wind turbine and interperative display at The Strand and learn about:
how wind energy gets converted into electrical energy


global warming and greenhouse gas emissions


wind use in Queensland


alternative energy sources:
Students can also investigate the Strand Wind Project online by visiting www.soe-townsville.org/strandwindproject.