While the world waits for solar powered hydrogen cars that have a zero carbon footprint, the Toyota Prius, available at a local Toyota dealer today, has already solved half the greenhouse problem. The Toyota Prius uses 50% less fuel than an equivalent sized petrol only vehicle. For a vehicle driven 100,000 km per annum, this will result in a reduction in greenhouse emissions of about 6 tons per year.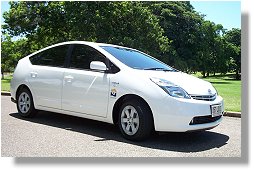 The Toyota Prius has a fuel economy rated at 4.4 litres per 100 km, giving the opportunity of traveling 1,000km per tank of fuel and spending less time at the petrol pump. This minimal fuel consumption is made possible because of the synergy between a petrol engine and an electric motor.
The petrol engine is a 4-cylinder, 16 valve, double overhead cam, 1.5 litre VVT-i engine producing 57 kW of power at only 5,000 rpm and operating the high expansion ratio "Atkison Cycle'. The electric motor adds a further 50kW of high torque power. This system is called the Hybrid Synergy Drive.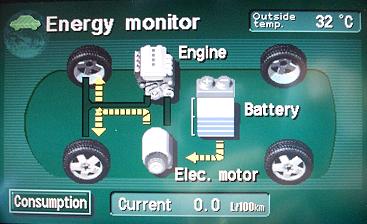 The energy dash on the Toyota Prius
Apart from having a 50% lower greenhouse signature, the Prius is also much cleaner than a regular car. Because the petrol engine is so efficient, the car produces 90% less smog-forming pollutants such as nitrous oxide and sulphur di-oxide than an equivalent sized non-hybrid car.
For people who first drive the Prius the most noticeable feature is that the engine shuts off when the car is stopped. Through the driving cycle, internal computers control the vehicle, switching between electric and petrol power as required. This is a very smart feature that makes the Toyota Prius one of the most sophisticated cars on the road today.
Townsville Bulletin Article [ Page 1, Page 2 ]